Allowance banking.
Written specifically to settle the arguments over pocket money in our household and teach the kids about saving. Allowabank automatically credit accounts with allowance and (optional) interest.
iPad and iPhone compatible
Deposit and withdraw money at any time.
View and email transaction reports
Three stylish themes
Reward Points for chores/good behaviour
Simple and effective user interface
Designed to be effective for all age groups
Quick transactions for commonly used deposits/withdrawals
Allowabank works, and presents its information in a simple style that both kids and adults can decipher easily. Each transaction is stored in the local database and can be viewed within the app or exported as an email.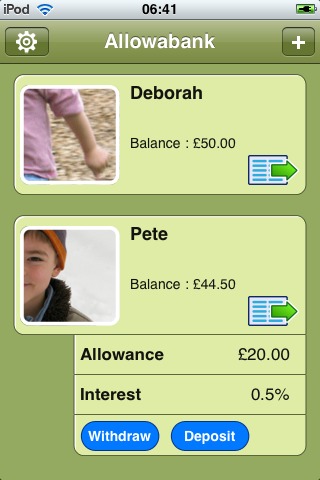 Add new accounts using the '+' icon on the top right. Simply type a name into the new account, set up the weekly allowance and (optional) interest.
You can configure Allowabank for your own family from the settings screen. Change the allowance date and time period, override your default currency, allow negative balance and configure reward points.